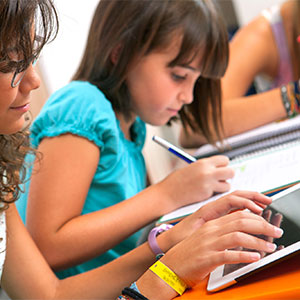 Meet the Growing Technology Needs in Schools
Technology plays a crucial role in the learning environment, whether at the K-12 level or in higher education. Educators are moving away from traditional teaching methods in favor of a technology-focused strategy that better engages today's students. Schools also face the need to provide stronger security and faster, more reliable communications.
Unfortunately, outdated technology makes it difficult for schools to meet these 21st-century demands. Many schools lack reliable wireless access capable of supporting growing numbers of mobile devices, or a robust technology infrastructure that facilitates distance learning. Physical security systems must be modernized in light of a growing array of threats.
The Hi-Link Solution
Hi-Link helps schools build a secure and reliable technology foundation that improves operational efficiency, increases campus safety and enhances instruction inside and outside the classroom. Our end-to-end solutions include wired and wireless networking, security, URL filtering, unified communications, backup, disaster recovery, and more.
Hi-Link has the experience and expertise to assist institutions with e-rate programs.  Hi-Link develops budgets and assists with meeting e-rate deadlines and goals.  We then provide installation and all the necessary material that is required to receive your maximum e-rate rebate.
Hi-Link can also help you take advantage of advanced data center technologies as well as network-enabled communication, collaboration and security tools.
Customer Service, Expertise, and Experience is Hi-Link