Hi-Link hosts events on a quarterly basis. Our goal is to educate, provide a comfortable learning experience, and deliver relevant information and solutions for today's busy IT executives.
We are always putting together the content and logistic together for our next event. Please check back regularly for details.
There are no upcoming events.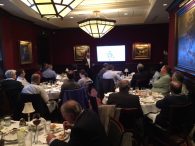 Interested in taking Palo Alto Networks, TripWire and Hi-Link Cloud Solutions for a test drive? Hi-Link invites you to attend the Ultimate Test Drive Security Prevention Luncheon
Real-World Knowledge Focused on Preventing Cyberattacks, Storing, and Protecting your Data Securely
This is a FREE luncheon at the Capital Grille dedicated to real-time cyber threat prevention, storage, and backup solutions. At this event you will learn how to:
Establish Policies to Prevent Known Threats
Enable Threat Analysis using WildFire to control Unknown Malware
Configure decryption and URL filtering policies to manage high-risk applications
Enable policies to Prevent Unknown Attacks and Zero-Day Exploits on Endpoints
Real-Time: Monitoring, Detection, and Remediation
Store and Back-up your Data Securely with Hybrid Cloud Solutions.
These Lunches are hugely popular and space fills quickly. Register now to save your place at the next Ultimate Security Test Drive.
We look forward to seeing you at this Security and Cloud Solutions Luncheon on Tuesday, November 15th at the Capital Grille in Stamford, CT.
Join Us for a Free Luncheon at The Capital Grille:

Solutions from Meraki, Tripwire, & Hi-Link Provide the Answers to your Network & Security Needs
–  Meraki is Wireless and More!
–  A complete cloud managed networking solution: wireless switching, security, WAN optimization, mobile device manager (MDM).
–  WAN connectivity, appliance availability, and seamless fail-over for branch sites – limiting any downtime and disruption.
Tripwire
–  Adopt and implement a security hardening policy without breaking your budget.
–  Repair configuration drift to comply with regulations and provide documentation.
–  List prioritized actions to improve your organization's security posture.
–  Keep your data safe, repel exploits, ensure regulatory compliance.

Where: The Capital Grille

Date: May 11th, 2017

230 Tresser Blvd. Stamford, CT 06901
Join us at Yankee Stadium on 9/14 for a customer appreciation event.
The Yankees are playing the Orioles!
Hit the Air Running with Ruckus Wireless
–  How can IT keep up with the pace of growing Wi-Fi demands, such as provisioning new access points (APs), setting up guest networks and enabling Wi-Fi facilities near and far?
End Point Security to the Next Level with Palo Alto
–  Palo Alto's Traps, endpoint security solution, preemptively blocks attacks that leverage both known and unknown malware and exploits before they can compromise your systems.
Click Here to Learn More About Hi-Link's Solutions
Hi-Link Technology Group invites you to join us on April 5th from 12:30-2:30 p.m. for a lunch and learn! Don't worry, this lunch and learn isn't your typical event! Combine good food and a "show and tell" of not just one, but 4 premium architectures that should be at the top of everyone's IT list.

In today's expanding technological environment where network breaches and the IoT are rapidly growing, one needs a flexible and manageable IT infrastructure. See how security, collaboration, and hyperflex work together to create a Simple IT package that combines a secure integrated network for a more collaborative environment.

Featured products will include Cisco's: Meraki, Umbrella Security, Spark Collaboration, and Hyperflex.

Click on the link below to register or RSVP.